Thug Life Army
| | | | |
| --- | --- | --- | --- |
| A Jailhouse Snitch Alleges He Was Sent To Set Up Suge Knight (Graphic Video) | | | |
Written by Huf
Tuesday, 12 July 2016 22:36
FREDERICK M. BROWN/GETTY IMAGES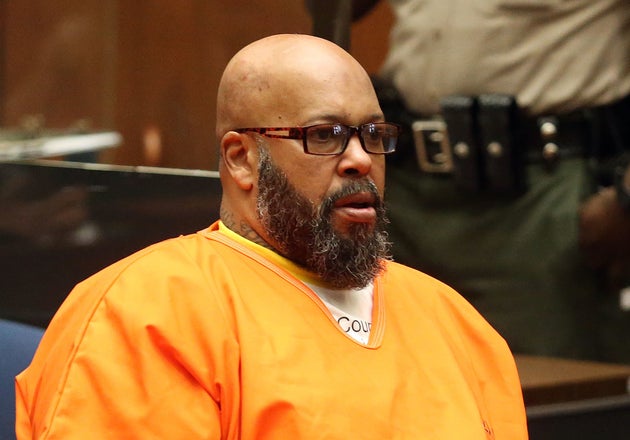 Marion "Suge" Knight appears in Los Angeles court for a pretrial hearing in January.
LOS ANGELES ― A prolific jailhouse informant who has worked inside county jails here said that he was ordered by a Los Angeles County sheriff to create false testimony surrounding rap mogul Marion "Suge" Knight.
The informant told Knight's lawyers that evidence exists, but has been intentionally withheld by law enforcement, that Knight was acting in self-defense when he killed one man and injured another with his truck in Compton, California, last year.
The bombshell allegations from Daniel Timms, who said he had worked on Knight's case, could be a boon for Knight, who sits in jail awaiting trial on murder and attempted murder charges.
Timms' claims could also cast doubt on convictions in several other criminal cases that he said he worked as a paid jailhouse informant over the last 14 years. He told Knight's legal team that he was ordered to provide false testimony in those cases as well, again by the Los Angeles County Sheriff's Department.
An investigator for Knight's lawyers conducted several interviews with Timms, and they provided the audio of one to The Huffington Post. (We are not making the audio publicly available in order to protect people potentially identified in the recording.) HuffPost was unable to immediately reach Timms himself, who was in jail.
An unrelated jailhouse informant scandal has been raging for several years in next-door Orange County. While there has been significant media coverage, including in HuffPost, that scandal has not yet made its way into the cable news cycle or the national conversation. Timms' allegations could change that, too.
To be sure, informants are not the most credible sources of information, and the most favorable view of Timms says he is now admitting to being a serial liar in the past. It's possible he has other motives for making his current claims. Still, the dubious reliability of informants in general hasn't stopped prosecutors from making use of them in court. And Timms was able to give Knight's attorneys a slew of information about a variety of cases that they said checked out as accurate, lending some credence to his version of events. A criminal record search for Timms turns up a string of felony arrests and convictions that would be consistent with the life of an informant.
Knight's defense attorneys are putting their full weight behind Timms' allegations, requesting formal investigations into his claims by California Attorney General Kamala Harris and U.S. Attorney General Loretta Lynch.
In a pair of letters to Harris and Lynch, dated July 10 and provided to HuffPost, lawyer Thaddeus Culpepper details the findings from the series of interviews that Knight's defense team conducted with Timms.
Knight is accused of running over two men at a Compton burger stand in early 2015, one of whom died. There's no question that he did it, thanks to a gruesome video made public by TMZ. The key legal question is whether he was trying to escape a legitimate threat on his life. His lawyers have argued that Knight was attempting to flee armed attackers. Timms' statements would tend to back up this claim. If convicted, Knight, 50, could face life in prison due to previous convictions. (Adding to the confusion, the allegedly armed attacker who was hit survived, while the dead man was a friend of Knight's who apparently got in the middle.)
Knight, a music industry titan known for an aggressive and at times violent approach to business, rose to fame in the 1990s with his gangsta-rap label, Death Row Records, which released seminal albums from the likes of Dr. Dre, Tupac Shakur and Snoop Dogg, as well as scores of other releases from West Coast hip-hop artists. Death Row would sell tens of millions of albums before it eventually buckled under the weight of debt and mismanagement. The company filed for bankruptcy in 2006 and two years later was auctioned off to a new owner.
Timms told Knight's attorneys that Sgt. Richard Biddle and Lt. Barry Hall of the LA County Sheriff's Department urged him to lie about what Knight said when they were housed next to each other in jail. The two detectives allegedly directed Timms to say that "Knight intended to be violent and showed no remorse in injuring or taking the victim's life," according to Culpepper's letter.
But Knight never said any such thing, Timms told his defense team. In exchange for that false testimony, Timms said he was promised that his wife's nephew, Devin Gonzales, would receive a drastically reduced sentence in a murder case in which he faced 70 years to life. Court records confirm that a plea deal with a much shorter sentence was struck in Gonzales' case.
Csaba Palfi, a lawyer for 36 years in California, said that he knows of Timms from at least one prior case and that he's seen him in jail during visits.
"If you ever shake hands with Danny Timms, count your fingers after. What can I tell you? He's a snitch," said Palfi. "That's his occupation, that's what he does for a living."
While visiting one of his clients within the last few months, Palfi said he saw Knight in a visiting booth and Timms in the adjacent booth. "There's no door on most of these, and you can hear what people are saying," the lawyer added.
Palfi said that on another occasion, Timms was placed in a cell next to a client of his, Michael Grigsby, and was later set to testify against him. (Due to serious misconduct on the part of law enforcement, Grigsby received a shorter sentence than he otherwise might have.)
I'm gonna do Suge. I don't need Suge to talk. I just need my presence next to Suge. I don't need Suge to say nothin'.
Daniel Timms
During one of his interviews with a lawyer and an investigator on Knight's legal team, Timms corrected the pair when they suggested it was his job to get Knight to implicate himself. Throughout that particular audio heard by HuffPost, Timms was schooling his interviewers in the nature of confidential informant work.
"No, I don't need information. They're going to give me the information," he said, referring to the detectives who he alleged provided him with inside information on the case. "I'm gonna do Suge. I don't need Suge to talk. I just need my presence next to Suge. I don't need Suge to say nothin'."
So that he'd be fully informed on the case, Timms told Knight's lawyers, Hall showed him Knight's "murder book" ― a law enforcement term for all the evidence, interviews, reports and notes compiled during the course of a murder investigation.
That murder book contains evidence that could possibly get Knight acquitted, Timms told defense lawyers. He said there was an eyewitness who told police that several men surrounding Knight's truck appeared to be armed. But Biddle allegedly told Timms that the detectives intended to withhold that information from the Los Angeles County District Attorney's Office so that it would not have to be disclosed to the defense.
Beyond Knight's case, Timms said his work as a jailhouse informant for the sheriff's department included creating false testimony to secure other convictions. An investigator working with Knight's defense team confirmed at least five cases that matched Timms' descriptions.
"Timms' testimony, if true, is quite disturbing," Culpepper's letter states. "Timms' testimony evidences a lengthy, historic and systematic abuse in the criminal investigative process. Timms' testimony also potentially describes a larger story of prosecutorial discovery abuse."
FREDERICK M. BROWN/GETTY IMAGES
Deputy District Attorney Cynthia Barnes speaks during a pretrial hearing for Suge Knight on Feb. 26, 2016.
When asked about the allegations by HuffPost, Los Angeles County District Attorney's Office spokeswoman Jane Robison dismissed them as "old news." She linked them to a motion filed in April by Culpepper and said that Deputy DA Cynthia Barnes had declared that there was "no credible evidence to support" Culpepper's motion and that "the statement of facts, as well as the arguments in his motion, are simply a collection of false statements and nonsensical accusations."
Robison also pointed to an April ruling by Superior Court Judge William C. Ryan denying Culpepper's motion. Ryan said then that the defense's "representations are patently and demonstrably false and defamatory."
But Knight's lead attorney in his murder case, J. Tooson, told HuffPost that the April motion did not include the full scope of allegations included in the July letter, nor did it include the audio recordings that Knight's defense team made with Timms. He also argued that Ryan's ruling was narrowly focused on a challenge to Knight's visitation rights.
"I don't understand how this is old news when we have this audio recording with case names and attorneys who Timms says he worked with," Tooson said.
Robison also flatly denied that Timms had ever worked as an informant in Knight's case.
A statement from the sheriff's department, however, made no such denial. "The homicide case involving Defendant Marion Knight is currently an active investigation and the Sheriff's Department will not comment on the matter at this time," the department told HuffPost in an emailed statement. "However, it is common for law enforcement agencies to obtain information from informants in and out of custody. As for the allegations raised by Daniel Timms, the Department will conduct an inquiry, but will not comment on his involvement in any investigation."
Moreover, in his letter, Culpepper argued that Timms' testimony appears to be "eerily similar" to the jailhouse informant scandal rocking Orange County.
The Orange County District Attorney's Office has been under fire for almost three years for its involvement in a secret jailhouse informant program that has allegedly violated the rights of countless defendants. Assistant Public Defender Scott Sanders has been arguing since 2013 that a tainted snitch network has operated in county jails for decades. Sanders contends that county prosecutors and police have violated multiple defendants' rights by illegally obtaining, and sometimes withholding, evidence gleaned from those informants.
After denying it for years, the district attorney's office finally acknowledged last month that there is an informant program and that sheriff's deputies actively "cultivated," "recruited" and "utilized" informants, rewarding them in exchange for their information. Additionally, a trove of secret notes kept by sheriff's deputies recently surfaced, shining new light on the use of informants.
Harris, the California attorney general, is investigating the allegations out of Orange County, and there have been numerous calls for a federal probe as well.
If [Timms'] allegations are true ... it's a slap in the face to the California justice system, to the legal community and to the California public.
Alexandra Natapoff, professor at Loyola Law School
Across the country, law enforcement authorities deploy jailhouse informants to help bolster a case — a tactic that's perfectly legal, even when the snitch receives something in exchange. But Timms' allegations that members of the sheriff's department ordered him to engage with Knight about his case, as well as to testify falsely about Knight, are not legal tactics.
If Timms' allegations wind up being true, it would be nothing short of shocking for Los Angeles County, which in recent years has been touted as an exemplar of proper informant protocols.
It wasn't always that way. Those protocols were developed following a blistering 1990 grand jury report that found widespread misuse of informants and illegal conduct that may have tainted hundreds of cases. There were "numerous cases" in which informants lied on the stand, inmates who said they were "sent on a mission" by law enforcement to obtain damning information from other inmates, and a system operated by the sheriff's department and the DA's office that provided informants with "a strong motivation to fabricate" testimony, according to the report. To this day, cases are unraveling due to wrongdoing from that period.
Following that damning report, the DA's office overhauled its informant program rules. It developed a jailhouse supervisory committee and an informant registry, and instituted strict scrutiny over the use of informants in criminal cases. Or so people said.
"If [Timms'] allegations are true that Los Angeles County law enforcement and government officials have in fact maintained the illegal and risky use of jailhouse informants, it's a slap in the face to the California justice system, to the legal community and to the California public," said Alexandra Natapoff, associate dean of research and professor at Loyola Law School who has written extensively about informants. "It would be an enormous betrayal of the public trust."
Source includes the graphic video of suge running over two people, one dies: http://www.huffingtonpost.com/entry/suge-knight-jailhouse-informant_us_578513afe4b07c356cfe8bbe
Last Updated on Wednesday, 13 July 2016 00:31
| | | | |
| --- | --- | --- | --- |
| Tupac biopic All Eyez on Me gets teaser trailer | | | |

Written by EW

Friday, 17 June 2016 01:37

All Eyez On Me

Posted June 16 2016 — 9:02 AM EDT

Just in time for what would have been the late rapper's 45th birthday, a new teaser trailer for the upcoming Tupac Shakur biopic All Eyez on Me has been released.

The tense clip, which was posted to the Instagram account of radio show Big Boy's Neighborhood, features a voiceover from The Walking Dead starDanai Gurira, who plays Shakur's mother, Afeni, in the upcoming film. "This ain't just about you. Like all black men, you have a bullseye on your back. They are going to give you the tools that you need to destroy yourself," she says, a somber version of "Ambitionz Az A Ridah" plays in the background as scenes showing a chanting crowd, an FBI raid, and the rapper performing onstage flash by. "Above all else, to thine own self be true. Now, let me see your spirit."

All Eyez On Me endured a troubled pre-production phase that saw a revolving door of directors, including Antoine Fuqua, Carl Franklin, and John Singleton, enter (then exit) the project, on top of a legal battle between film company Morgan Creek and Afeni. The rights to the biopic reverted back to Tupac's estate in 2015, and the film secured veteran music video director Benny Boom to helm the project. All Eyez On Me was partiall filmed in Atlanta, Georgia, and completed production in Las Vegas in April.

In addition to Gurira, newcomer Demetrius Shipp, Jr. stars in the film as the music icon, who was killed in a 1996 drive-by shooting in Las Vegas. The trailer also introduces Dominic L. Satana as Suge Knight and recording artist Maino as one of Tupac's associates, Walter "King Tut" Johnson.

Watch the new teaser trailer for All Eyez on Me in the video above, ahead of the film's planned Nov. 11 release date.

To watch trailer chick here: http://www.ew.com/article/2016/06/16/tupac-all-eyez-me-trailer

Last Updated on Wednesday, 13 July 2016 00:32

| | | | |
| --- | --- | --- | --- |
| Update on the film 7 Dayz The Movie by Gobi M. Rahimi | | | |

Written by Frank M. Miranda & Gobi M. Rahimi

Tuesday, 31 May 2016 23:23

6/1/2016

This film is NOT speculations like many others, this is the real thing from the man Tupac Shakur chose to have him followed around to document in video and photos the inner-side of Pac's rise and untimely death. We at ThugLifeArmy.com are extremely excited that this project even exists.

Frank M. Miranda

President/CEO

(c) Copyright Thug Life Army a division of STAR SOUND MUSIC GROUP®

7119 Sunset Boulevard, Suite 850, Hollywood, California 90046 All rights reserved.

Here's an update on the film from the filmmaker Gobi M. Rahimi. This film is still in the development stages (funding). Once it's funded, the pre-production stages begin, with production and post-production following. Once Production has finished, a release date will be set. Visit www.7DayzTheMovie.com, the hub of all exclusive content available related to the film!

 

Click here to watch trailer: 7Dayz Trailer 2016 from Static Free Films on Vimeo.

 

 

Last Updated on Tuesday, 31 May 2016 23:33

| | | | |
| --- | --- | --- | --- |
| Hip-Hop Tribute to Tupac Heard by Over 18 Million People Around the World! | | | |

Written by Frenkie @ Star sound music Group - Hollywood, CA

Thursday, 16 June 2016 18:45

 

 

THIS TRIBUTE ORIGINALLY AIRED AROUND THE WORLD ON JUNE 16, 2006! EVERY YEAR SINCE, WE PLAY IT ON OUR NETWORKS AS A REMINDER OF THE MANY PEOPLE TOUCHED BY TUPAC -2PAC. WE WOULD ALSO LIKE TO ACKNOWLEGE THE FALLEN SOULJAS SINCE THE DAY OF THE ORIGINALL BROADCAST. RIP AFENI SHAKUR DAVIS (MOTHER...)RIP JOHNNY "J" PRODUCER TO TUPAC'S EARLIER WORKS... RIP TRISTAN "Doc" DUBOIS…(c) Copyright Star Sound Music Group – all rights reserved

 

 

2006 Tupac Amaru Shakur's Tribute ? The nearly 300 markets covered 65% of the U.S. and the tribute was also heard by radio listeners in Mexico, Japan, Canada, Puerto Rico, Cuba and the U.K. Over 18 Million people worldwide heard the tribute to Tupac (2Pac) on radio alone. This number does not include the hip-hop, rap and fan web sites that also ran this tribute to Tupac (2Pac). (Read More...)

To listen click here: Tupac Amaru Shakur's Tribute 2006

Production Credits

 

Music: Johnny "J" for Klock Work Entertainment

Producers: Frank Mills Miranda for Chicano Radio Network U.S.A. - www.CRNLive.com

Robert at ThugLifeArmy.com

Play Time: 5 Minutes

Formats: MP3

The Chicano Radio Network U.S.A. a division of Star Sound Group International

7119 Santa Monica Boulevard Suite 800

Hollywood, California 90046 // ]]>

Last Updated on Thursday, 16 June 2016 18:52

| | | | |
| --- | --- | --- | --- |
| STATEMENT FROM THE SHAKUR FAMILY AND THE ESTATE OF TUPAC SHAKUR REGARDING AFENI SHAKUR | | | |

Written by TASF

Wednesday, 11 May 2016 01:08

We are deeply saddened by the untimely passing of Afeni Shakur.

 

Afeni embodied strength, resilience, wisdom, and love. She was a pioneer for social change and was committed to building a more peaceful world.

An outspoken and eloquent advocate for today's youth, Afeni founded the Tupac Amaru Shakur Foundation to instill a sense of freedom of expression and education through the arts.

 

Afeni was a deeply devoted mother, grandmother and sister. Her spirit will forever inspire all of those who had the honor and privilege of knowing her.

 

With love and endless respect,

The Shakur Family and The Estate of Tupac Shakur

 

"You always was a black queen, mama…

There's no way I can pay you back

but the plan is to show you that I understand

You are appreciated."

Tupac Shakur, "Dear Mama"

 





The family has received numerous inquiries on ways to honor the memory of Afeni Shakur.  What would have pleased Afeni the most would be a donation in any amount to the Tupac Amaru Shakur Foundation, the foundation she created to carry forward Tupac's vision of inspiring young people to excel in life through the arts.

Donations may be made here:


OR sent to the address below:

Tupac Amaru Shakur Foundation, C/O Steve Swartz
Freedman Broder and Company
11100 Santa Monica Blvd. Suite 400 
Los Angeles, Ca. 90025
<< Start < Prev 1

2

3 4 5 6 7 8 9 10 Next > End >>


Page 2 of 73