| | | | |
| --- | --- | --- | --- |
| CRNLive explains the simple truth about the benefits the Un-documented bring to the U.S.A. | | | |
Written by CRNLive
Wednesday, 17 September 2014 05:43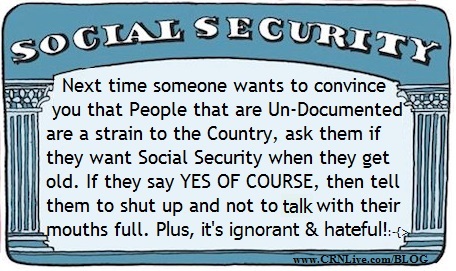 "It's real simple, as citizens of the United States we pay for Social Security out of our pay checks, the government squanders it to the point of insolvency, period. Then the un-documented put hundreds of billions in to the system without getting anything in return so it keeps Social Security afloat making the un-documented an asset to the country not a liability" -- CRNLive
Social Security, which provides retirement income to millions of elderly Americans, is largely stable – at least for now – thanks in part to the more than 3.1 million people who are working and paying taxes in the U.S. using fake or expired social security numbers. Every year, undocumented immigrants have collectively paid as much as $13 billion into the system while only receiving $1 billion in benefits in return.
The contributions are starting to add up. In total, undocumented workers have contributed more than $100 billion over the last decade while living in the shadows, says Stephen Goss, chief actuary of the Social Security Administration (SSA).
"You could say legitimately that had we not received the contributions that we have had in the past from undocumented immigrants … that would of course diminish our ability to be paying benefits for as long as we now can," Goss told msnbc.
In 2010, the agency estimated that as many as 2.7 million undocumented immigrants have social security numbers on the books – and are earning credit to their names for potential benefits in the future if ever granted legal status – either because they have temporary authorization to work, have overstayed their visa or obtained work by using fraudulent documents. Another 3.9 million other immigrants are estimated to be working in the U.S. but in the underground economy.
Since the 9/11 terror atacks, Goss says the SSA has cracked down on fake IDs, which were often obtained in the mid-1980s through fraudulent birth certificates. But there remains a significant amount of money contributed to the Social Security system by undocumented workers that continues to go unclaimed.
Those contributions are crucial as more and more of America's baby boom generation reaches retirement age. The Social Security Trust Fund released its annual report last month finding that there are major causes for concern for the program down the road. Unless Congress reforms the system, the retirement trust funds will be depleted by 2033 and the revenue coming in will only be able to cover 77% of benefits.
One of the solutions proposed to offset the diminishing funds has been comprehensive immigration reform. In a study commissioned by Florida Sen. Marco Rubio, a Republican member of the Senate's Gang of Eight architects for immigration reform, found that the legislation would have boosted GDP by 1.63% and created more than 3 million jobs.
Adriana Kugler, a former chief economist of the U.S. Department of Labor under the Obama administration and a professor at Georgetown University, said lifting undocumented immigrants into the legitimate workforce would have a significant impact on Social Security's long-term future.
"The net contribution over the next 30 to 40 years will be very crucial in alleviating the pressure on the system," said Kugler. "That's really key because it's a time when a lot of people will be retiring."
Massachusetts Democratic Sen. Elizabeth Warren has made the same argument, saying that comprehensive immigration reform is vital to preserving the program.
"One of the ways we can save Social Security is to pass comprehensive immigration reform," Warren said speaking before the National Council for La Raza (NCLR) conference last month. "Bring more workers and bring more people out of the shadow economy and into the fully paid economy where everything is above the table."
While hopes of immigration reform languish in Congress, President Obama is expected to take executive action by the end of the summer that could protect 5-8 million people from deportation. The actions under consideration could temporarily grant work permits to some undocumented immigrants, allowing them to get jobs and pay taxes.
In 2012, Obama instituted the Deferred Action for Childhood Arrivals program, known as DACA. Under DACA, more than 580,000 so-called DREAMers – young immigrants brought into the U.S. as children – are protected from deportation under a two-year, renewable program eligible for DREAMers who have lived in the U.S. continuously since 2007.
The immediate economic impact has been a boon for the young immigrants and their communities, according to a study released earlier this summer by American Immigration Council. More than 60% of DACA recipients were able to find a job after receiving their benefits, and those jobs translate into more taxable revenue for the state.
Goss said the impacts of the president's pending executive action would be relatively modest in terms of additional revenue for the Social Security Trust Fund, but still a net positive.
"We estimated that a good number of those people would remain in the country and would remain in the above ground economy," Goss said.
Last Updated on Friday, 19 September 2014 23:36