| | | | |
| --- | --- | --- | --- |
| Create Option C, actress Lourdes Colon's journey with cancer | | | |
Written by Frank M. Miranda
Wednesday, 12 November 2014 13:11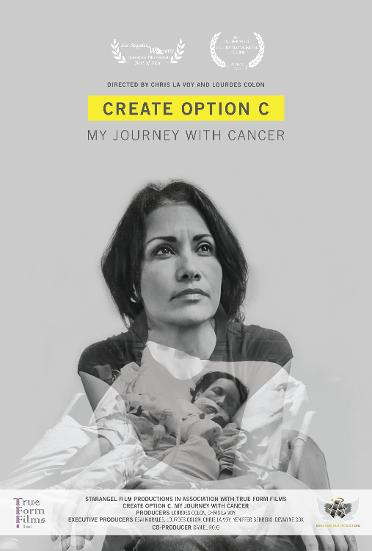 Create Option C my journey with Cancer, this is a touching story that effects allot of people in the world. Actress Lourdes Colon take the alternative and shares her life and story through this documentary, "Create Option C my journey with Cancer" a must see film merging conventional and non-conventional medicine to help in our own system to rid or reduce cells associated with cancer. This is extremely valuable information for those suffering but could also be helpful for general knowledge because cancer is random and you never know who it's going to hit next, it may be you. Below are some suggestions:
What's in the drink:
Ginger reduces blood pressure, and Cholesterol, and stimulates the heart. Ginger is a more powerful then onions or garlic. It's known to fight inflammation and viruses and much more.

Strawberries is bursting with vitamins, minerals, and fights cancer plus more.

Bananas is a great source of vitamin B, Magnesium and potassium, and is also rich in probiotics.

Blueberries has an impressive ray of antioxidants. And enhances vitamin C and great for fighting cancer and a long list of other illnesses.

Kale healthy for your bones and vitamin K also known for its properties to fighting cancer.

Cucumbers contain significant amounts of Vitamin C, Vitamin K and Potassium, as well as silica a compound needed for connective tissue.

Celery a cleansing diuretic effect and it alkalizes which is great for the digestion.

Alfafa sprouts are high in antioxidants and are exceptional and have healing properties.

This drink is full of enzymes as it is raw and never cooked or frozen as both freezing or cooking kill the enzymes we need in these foods.

http://www.crnlive.com/CRNBlog/index.php/2014/11/create-option-c-actress-lourdes-colons-journey-with-cancer/
Last Updated on Wednesday, 12 November 2014 13:53